When I plan a cooking day, I don't always want to wear an apron and yet, I want to wear something simple. Not simple like my pajamas, but more stylish. On those days when I want to be very comfortable and cook, I don a pair of scrubs.
For me it is all about comfort while cooking, so the drawstring pants are a must!
Have you ever thought about wearing
nursing scrubs
when cooking all day or even just a meal? They are inexpensive, comfortable, easy to clean, attractive and versatile. Isn't that just a super idea?
Cheap scrubs
from

Blue Sky Scrubs

can be purchased in a wide array of colors. In the original scrub line, the colors are vibrant. Here are just a few...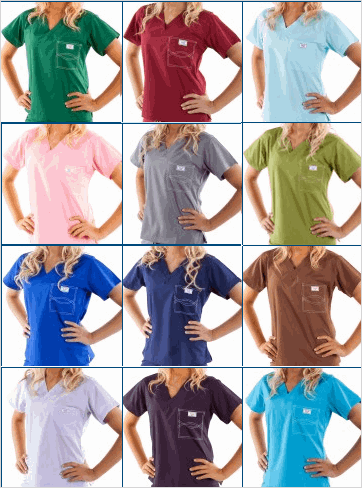 Scrub clothing
, specifically the Original Scrubs have the following visual characteristics:

stitching on both back pockets of the scrub bottoms

stitching on the pocket of the scrub top
scrub pants are between a flare-leg and a boot-cut
scrub tops are tapered at the waist
So they are not just big, baggy scrubs like was common many years ago. The scrub tops
and
scrub pants
would obviously be comfortable to work in if you are in the medical field, but I think a pair or two should be a staple when you cook. I wish I had thought of this when my daughter was young! I would have just loved having her wear the
Blue Sky Scrubs for kids
and I'm sure she would have loved them too. Scrubs are so durable, sturdy and I wouldn't have to worry about her messing up an expensive outfit
.
A rather fun item at

Blue Sky Scrubs

are the fashion-forward scrub hats and scrub caps for women. You wouldn't ever have to worry about hair falling in the food again! They carry three different hats:


The patented Pony scrub hat®


I wish that when Alyssa was splatter painting, we had the

Pony scrub hat®

to protect her hair from all the paint. Currently, this hat can be purchased in hundreds of colors and designs
Scrubs are no longer ugly, boring uniforms. Instead, they are a fashionable and stylish alternative for casual wear during many activities spanning from cooking, crafting and nursing to sleeping in them as pajamas.
Just add a cute pair of earrings
and you're set!
My opinions are valued and I was compensated by my friends at
Blue Sky Scrubs
for this post.