Meet the Blogrolls...
You can access the various blogrolls in three ways:
Tabs across the navigation bar
Icons at the top of the left side bar
This page
Personal Journal Blogroll
Food & Recipes Blogroll
The Contests & Giveaways Blogroll
Decorative Interiors Blogroll
Crafting & Selling Blogroll
Other Stuff Blogroll
I know the names are not fancy, but I wanted them to be really obvious and easy to remember. Albeit a bit nerdy, I think I accomplished my task. Each of the web addresses begin "rrbr" for "Redhead Riter Blog Roll." Next is the specific one word descriptions of each site which are "journal, food, contest, decorate, crafty, and other." These are then followed by ".blogspot.com"
The
Personal Journal Blogroll
is the personal family websites which discuss your life successes, failures, joys, sorrows, hopes and dreams. They are more an online diary.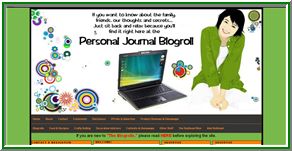 The
Food & Recipes Blogroll
is exactly what it sounds like...filled with food, nutrition and kitchen tips and recipes. Feel free to send me your favorite recipes and any story behind their conception and I will be happy to feature them with a link leading to you.
The Contests & Giveaways Blogroll
should help everyone who is looking for a free giveaway. As each blog makes a new posting, it will be brought to the top of the list and you can very easily identify where you need to visit next to enter a contest. It is also great for those who are hosting a giveway because the contest will be very apparent to everyone. If you post a "reminder" each day of all your contests, they could all appear in the snippet.
The
Decorative Interiors Blogroll
is eye candy (not quite as good as George Clooney, but will have to satisfy for now.) This will be especially fun if you want to share your completed renovations or fancy interior decorations because I will post your pictures and feature you on the site. This blog will be filled with pictures, because that is what decorating is all about!
The
Crafting & Selling Blogroll
will be jammed pack with crafting tips, selling advice and motivations to help keep a positive attitude with your eyes looking forward to success for your business. As I peruse through the internet I find so many wonderful items for sale and I look forward to featuring your success stories.
The
Other Stuff Blogroll
is my nerdy site (I'm laughing at myself) because it is dedicated to the "How To" and "Where to find" sites that I have found to be highly interesting or helpful, but the site didn't fit into any of my other main blogroll categories.
I hope that you will find something useful or enjoyable in all of them!